Enquire Now Health & Safety Adviser Service - SMEs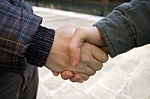 Peak HSE assists Small to Medium sized businesses that require external support to ensure compliance with Regulation 7 of the Management of Health and Safety at Work Regulations 1999.
All businesses have to manage and monitor Health, Safety & Environmental activities and we can provide support as and when required.
The benefits of our services are flexible but can include:
An initial review
An agreed number of visits per year to conduct inspections/specific tasks, H&S meeting attendance, delivery of toolbox talks or project work.
Random "spot checks"
Inspections and Audits
Support with ISO standards
Support with SSIP (Safety Schemes in Procurement) membership
A call out service in the event of an accident/incident
Help with enforcement agency intervention (HSE, Local Authority, Fire Authorities, Police) such as improvement or prohibition notices, prosecutions
Access to information and advice via telephone & email
Certificate of membership
Testimonials
"John and I worked together for over 10 years. He is a highly competent HSE professional who understands business needs. His practical approach and great personality make it a real pleasure to work with him. You know that whatever he does will be delivered competently by one of the best in the business"