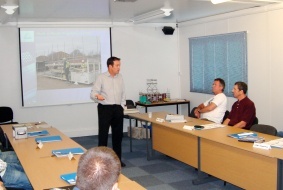 Tailored courses often have more impact particularly when they incorporate case studies, practical exercises, policies & site photographs. The full value of training courses can often be greatly enhanced by effective tailoring especially when followed up with monitoring, support & coaching.
The following courses can be tailored and delivered "In House"
IOSH Safety for Senior Executives
IOSH Managing Safely
IOSH Working Safely
NEBOSH Award in Environmental Awareness at Work
ISO 45001 - An Introduction
ISO 45001 - Internal Auditors Course
Risk Assessment
CDM Regulations
Accident Investigation
Introduction to Behavioural Safety
Stress Management
Managing Contractors
PUWER Assessment and CE Marking
COSHH Assessment
Manual Handling
Driver Training
Environmental Awareness
ISO 14001 - An Introduction
ISO 14001 Internal Auditors Course
ISO 9001- An Introduction
ISO 9001 - Internal Auditors Course
Testimonials
"The team at Peak HSE were thoroughly knowledgeable, well prepared to deliver the NEBOSH Certificate course but above all engaging; instilling a desire to understand the concepts and
regulations on the written page and a methodology to help remember the same. As a training provider I would not hesitate to recommend using their services and cannot rate them highly enough.
"