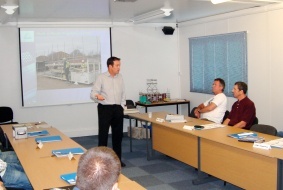 Tailored courses often have more impact particularly when they incorporate case studies, practical exercises, policies & site photographs. The full value of training courses can often be greatly enhanced by effective tailoring especially when followed up with monitoring, support & coaching. The following courses can be tailored and delivered "In House"
IOSH Safety for Senior Executives
IOSH Managing Safely
IOSH Working Safely
NEBOSH Award in Environmental Awareness at Work
OHSAS 18001 - An Introduction
OHSAS 18001 Auditors Course
Risk Assessment
CDM Regulations
Accident Investigation
Introduction to Behavioural Safety
Stress Management
Managing Contractors
Manual Handling
Driver Training
Environmental Awareness
ISO 14001 - An Introduction
ISO 14001 Auditors Course
ISO 9001- An Introduction
ISO 9001 Auditors Course
Testimonials
"Outokumpu Stainless Ltd., ASR Rod Mill is a small Top Tier COMAH site that is accredited to ISO9001, ISO14001 and OHSAS18801. Even though we are only a small site, the management team have a lot of skills and experience, but we do have our a limit, which is why we have a policy of using specialist external consultants to complement and assist us.
One of these is PeakHSE and we have used them to assist us in developing specialised training courses and systems as well as for independent compliance auditing. Peak HSE not only undertake work for the ASR Rod Mill site, but for the other Outokumpu businesses in Sheffield. As their work is held in such high regard, they are now undertaking projects on behalf of the "Group" which will be rolled out through all the Outokumpu sites worldwide.
I have found all the consultants that we have worked with from PeakHSE to be very rofessional, to be very experienced and provided us with material that is to a high standard which has always met our expectations. We would strongly recommend them to anyone who requires similar work that they do for us to be undertaken."