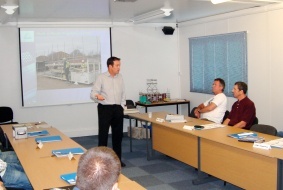 Tailored courses often have more impact particularly when they incorporate case studies, practical exercises, policies & site photographs. The full value of training courses can often be greatly enhanced by effective tailoring especially when followed up with monitoring, support & coaching. The following courses can be tailored and delivered "In House"
IOSH Safety for Senior Executives
IOSH Managing Safely
IOSH Working Safely
NEBOSH Award in Environmental Awareness at Work
OHSAS 18001 - An Introduction
OHSAS 18001 Auditors Course
Risk Assessment
CDM Regulations
Accident Investigation
Introduction to Behavioural Safety
Stress Management
Managing Contractors
Manual Handling
Driver Training
Environmental Awareness
ISO 14001 - An Introduction
ISO 14001 Auditors Course
ISO 9001- An Introduction
ISO 9001 Auditors Course
Testimonials
" "Following my successful completion of the NEBOSH Certificate I have nothing but praise for Peak HSE. The trainers are extremely experienced in their field and deliver the training in a varied and easy to follow manner, with a good amount of humour thrown in too. Peak HSE also provided clear instructions regarding the course dates, times and location prior to the course commencing. Initially the number of course subjects seemed daunting but the trainers ensured that everyone understood each section before they moved on and there was plenty of time for revision prior to the exams. The venue for the course was also very good. The building used was appropriate for this type of course, it was kept very clean and the refreshments and food were very good. I would certainly recommend Peak HSE" "